The Tipi Field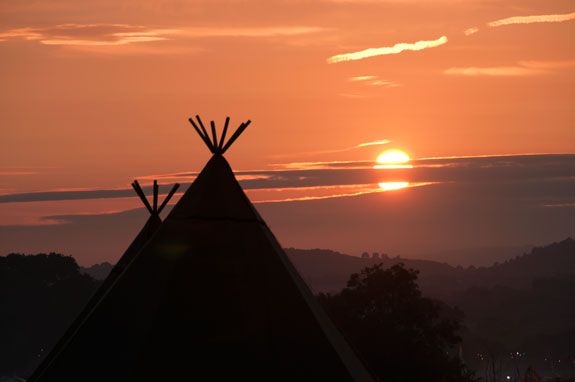 Tipis have played a part in the Festival at Pilton since the early days. Given the extraordinary power and beauty of these majestic structures, they soon established themselves as part of the annual landscape at Worthy Farm. Over the years the number of Tipis has grown and Glastonbury Festival has found itself hosting the largest annual gathering of Tipis in Europe.
The Tipi Field is a symbol of the relevance of an ancient tribal culture, able to live in harmony on the earth. The Tipis offer a symbolic invitation for all of us to step into the circle and reclaim our natural connection with the planet and each other. 

The heart of the Tipi Field is the fire and central circle, watched over by a majestic Oak totem pole. In this great circle of Tipis you will find drummers and dancers, diggers and dreamers, and a sacred space that remembers the spirit of old Glastonbury. 


The Ancient Futures Stage in the Tipi Field hosts a programme of inspirational talks, workshops, ceremonies and performances, celebrating traditions from around the globe.
This years highlights include workshops in Classical Indian Dance, West African Singing, Woodcarving and Willow weaving. Stories from around the globe with The Man from Story Mountain, Tom Fox and the Cartwheels Collective. Bands include Baka Beyond, Rory Macleod, Nessi Lomez, and local favourites Celtech and The 32-20's.
Discover the delights of the Lost Horizons Sauna, curl up on a cosy sheepskin with a mug of Pacha Mama chai, and take a moments refuge from the hustle and bustle. This year we celebrate shining the light on ancient paths with a sacred lighthouse, visionary art, daily ceremonies and much more.