Tuesday, June 11th 2013
Things are really hotting up on site now, here's some pics to help get you in the mood...


The production teams are on site now, they've marked out, the first scaff is up and the first boards are being put on the new frontages to heaven and hell. Andy Cross (top architect and crew member) has designed these installations and has 40 crew on site building them, so I reckon we'll have something pretty decent to show you.

Just want to give a big thanks to everyone making it happen this year.

All the crew are stars, heres just a few of them... Jamie Astral from Astral Design lighting, whos going to make it all shine fantastically for you (astraldesign.co.uk). Seain Loughlin from Positive Focus who is going to make it all sound fantastic (pfevents.com). Thanks to Richard Martin, who is helping us with more lights for the Hell Stage.

This years interns have proved to be fantastic help. They have been working tirelessly to help make this years project a reality and making us feel like we can one day ditch this malarkey and leave it safe in the hands of the next generation.

The golden wristbands have arrived in our HQ at last. Boy there's a lot of hype about them which is funny and brill, but not to be taken too seriously (this is Shangri-la afterall, we're the ones that specialise in theatrical interaction). If you cant bear a few moments of theatrical interaction (and we all have moments of that) then you can fast-track your way to instant absolution by buying a SL Heavenly Welly Bag for a couple quid.

The bit that¹s going to be really hard to figure out how to get into is the uber luxury yurt at the centre of the Garden of Eden. So VIP not even we know how to get in (really). Only the admin angels will be able to select the "chosen few" to get in, and they are all a bit odd frankly, so who knows.

We're pleased to announce that sshh… will be working with us this year to provide this yurt above all other yurts. Our art department will be working with their art department to give an injection of sheer luxury into this little section of the South East Corner.

So, last blog from London, I'm off to join all the guys on site who've been grafting for 2 weeks now. Better get a move on.

Debs
Monday, May 13th 2013
Hi all,
We've been busy getting on with it and generally getting excited about all stuff happening and the brilliant blags we've had from people trying to get wristbands for heaven via our Facebook page. We haven't even started on telling you about Hell yet. Our alleyways have been reconfigured and themed around Dante's Seven Circles of Hell, which different spaces for diferent types of contemporary sinner. We just named them all yesterday, turn left at the Avenue of Corruption onto Mutilation Row and so forth. Hoarders Passage will be claustrophobic and Lust Lane will be sticky. Let's not go into Anus Close.
It's all shaping up really nice with all the nanovenues who will inhabit the alleys. Art Director Kaye Dunnings has been working closely with the nanos and artists throughout SL, and two of the things we're especially excited about are:
Stunning new frontages for Heaven and Hell designed by Andrew Cross (www.an-architecture.co.uk) in collaboration with the SL team. Blurring the lines between art and architecture, Andrew is our kind of guy, creating work, which is "not the kind of architecture that's filled with offices and creates skylines and not the kind of art that hangs on walls to just be looked at".
In times when governments spend billions on banks but don't spend any money on art any more, we welcome The Exchangibition Bank by Dutch artist Dadara (http://blog.artasmoney.com/bank). The Exchangibition bank is an ongoing project, which raises questions about the value(s) of Art and Money, and it will be located in the 4th circle of Hell, reserved for Hoarders and Spendthrifts.
Programming wise, we're not normally famed for our daytime sessions but this year is a bit different.
Every afternoon in Shangri-La is a session on The Hell Stage called "Up Close" where we invite some of the nations biggest and most recognised DJs / Collectors to really show us their "wares", in a more intimate setting than the full-on night-time show.
Bye for now
Debs at Shangri-la HQ
Friday October 12th 2012
Wow. More than a year and 2 festival seasons later… we're back on the blog, on board the mothership Glasto, and boy are we glad to be home!

Shangri-la 2011 turned out to be the best year yet, the full realisation of the dystopic, future-city, Bladerunner style, vision we'd been evolving over 3 years. It was incredibly moving to see all the work coming together in such magnificent fashion. The hub and alleys set a new benchmark for festivals and we've been glad to see the influence of the nano-venue spreading through festival culture. Boomtown, bless em, did a fantastic homage, and we're happy to see the kids taking it on and developing it.
Shangri-la is about setting the bar high, about pushing it as far as we can go creatively. We're there to help make sure that Glasto has always got the freshest content in the festival world. We're starting fresh for 2013 with a new series of shows, introducing a new set, new venues and and a new theme which we will develop over the next 4 years.

Something that makes Shangri-la absolutely unique is its evolving narrative, we tell a new chapter each year. Contributing artists and designers respond to the story to create their own sub-plots. The Audience becomes inhabitants of the film-set inspired wonderland, Shangri-la, which they explore and become lost within. It is an other-worldly festival experience, with plenty of mind blowing surprises along the way!

Star Wars prologue style, let's look at the first series of the story. 2008-2011

2008- Free for all

2009 – Beginning of a new order – the rule of the Shangri-la Administration, a corrupt dictatorship who built a city devoted to the pursuit of 24hr pleasure.

2010 – Rebellion – the overthrow of the Administration by the Rebels of the Badland Alleys.

2011 – Virus/End of the world – the "lucky ones" were preparing to leave for a new colony, the hub was being shipped off and the alleyways and their inhabitants left to die in the virus-riddled slums.

2012 – no show - During this time, the new colonists where horribly betrayed by the very aliens that they sought to befriend (yes). Everyone that stayed in Shangri-la died of the virus. Everything that was once there has now gone.

2013 - sees the beginning of the Afterlife series. The afterlife has all kinds of interesting places it can go. Anywhere in fact, the afterlife is our oyster and there are literally no limits to what it can be. There is however, a classic place to start; Heaven, Hell and Purgatory are concepts deeply embedded in the collective consciousness of our Glastonbury audience and is also a fantastic wealth of inspiration.

So, it's out with the old and in with the new. Nothing you saw before will be there, but the things you loved - the exploration, the hidden doors, the layers and layers of artwork, the stonking party, the filthy and fluffy venues, the secret big-name acts – it will all be there, but in a new form.

Something new we're exploring this year is opening up this early creative development phase to the audience. We've been having some fantastic dialogues on Facebook and have made our pre-brief moodboards public for the first time. If you're interested you can click www.facebook.com/ShangriLaGlasto or have a look at http://pinterest.com/debsarmstrong/new-shangri-la-inspirations/

Shangri-la 2013 - One Man's Heaven is Another Man's Hell.

We hope you enjoy.
Monday June 20th 2011
Hello there,

The Festival opens in two days time and work on site has stepped up to a furious pace. It's looking fantastic down here in Shangri-la, and indeed across the whole of the naughty corner. All the fields are looking great, but with such different styles. It's going to be a mega year – what an extraordinary amount of work goes in to create these areas for you, it makes me feel very proud of them all.

This year I personally have been doing a lot less running around in the field than usual, as I am also working hard on next year's project. As you all know, theres no Glastonbury next year, so the big burning questions are what are we going to do next, and where's it going to be? Well, we know the answers and we're very excited indeed!

So to find out, come down to Shangri-La and keep an eye out for anyone with one of our What next? Where Next? Who next? Stickers on – they will be in the know. If you want to be in the know yourself, our stickering hq will have info, it is located between the two fabulous 2-storey venues in the alleys.

If you're not able to attend the Festival this year, but have found your way to our blog, we'll give you the easy way, mud-free and from the comfort of your own home. Shangri-La is proud to announce….

All the best,
Debs
Wednesday June 15th 2011
Hi all, being creatures of the Glasto-night, daytime is not usually thought of as a highlight. This year however, we're catering for those who may not be into the big stage schlep, and who just want to dance to reggae and dancehall in the sun with their mates (oh. that's us). So if you like it too, c'mon down to the Hub, we're making it real nice, or rather Lovebullets, Black Butter and BushBash are... check out what they've got to say...
The Hub Stage in Shangri-la is THE place to be for the ultimate daytime party experience, the stage will be running from 11am until 6am the next day so you can party Until your legs drop off.
LOVEBULLETS have teamed up with BLACK BUTTER RECORDS and BUSHBASH to bring you a super stomping daytime line up in support of WAR CHILD.
Get ready for some dubstep beats, jungle raving and London sounds on Saturday from 11am with Rack N Ruin, Warrior One, Man like Me, Klose one and Doorly amongst others Set to rock up and get the crowd jumping.
To close the Festival we have a Sunday all day rave up to keep you going until next time. Sunday morning kicks off with some mellow magic beats at 11am rolling into some reggae, dancehall and bashment with Irition Steppas, Heatwave and lady Chann on the rostra. Legendary yoyo soundsystem take over from 5pm with their extra special guests, moving onto some grime in the early evening with Bushkin, Fonti, and Sway on the mic.
Full line up available here but for a real taste click on the Hub video below.
No big band watching just daytime raving… THE HUB DAYTIME IN SHANGRI-LA.

Thursday June 9th 2011
Hi everyone, excitement is mounting about Glasto weekend, which is getting very near now. For us, it's all happening right now. As we speak a city is being built, fuelled only by dedication and cheese rolls.

It must be hard to imagine the activity on site, but, for your delectation and delight, heres a short funny little film about it, showing the process from build to rave.

Massive thanks to Charlie Miller and Simon Mitchell for producing the film. Big up.



And for the rave-monkeys among you.. YOYOYO CHECK THIS OUT! This is what's in store for you on the Hub... should gee you up nicely for an afternoon of dancing in the sun followed by some serious batty-wine.
C'mon.


Sunday May 8th 2011
As Glastonbury creeps closer and closer, Shangri-La HQ is full-on as we frantically (did I say frantically? I meant calmly and in control) plot the most spectacular, mind bending experience for you yet.

This year's pre-apocalyptic storyline sees the population of Shangri–La preparing to flee before the percieved end of the world in 2012. The new colony is all set up, the most important thing (celebs) have already been dispatched and the first spaceship out leaves on the Monday after the gig. This will be the rave to end all raves – oh yes, it's time to start getting excited folks.

Shangri-La is going to be teeming with a multitude of venues (a whopping 28 in total), varying in scale from the massive to the minute. You can dance until your feet bleed in outdoor arena The HUB, and watch an eclectic array of live music at Club Dada. Lose yourself in interactive venues Slumbarave and the Snakepit, and stumble into the maze of covered Alleys riddled with tiny Nano-venues, each one luring you in to a unique den of weird and wonderful delights.

The centre of Shangri-La is The HUB (Heavy Utopian Beats), a town square in the round and a gathering place for bass-hungry festival goers. When the sun sets over Worthy Farm the HUB becomes a seriously good night out, embellished with mind-blowing projection mapping across the imposing walls. This year we've been developing the HUB's daytime programme, giving it a nice sunshine-rave Ibiza style atmosphere. We'll publish the line-up soon…

Club Dada brings you a tasty variety of top-secret superstars and volcano hot festival favourites, from Gypsy to Ska to African Punk and beyond. In keeping with Glastonbury's famed clandestine style, much of the line up is kept strictly under wraps. However, Club Dada can reveal that Friday night's festivities will see an Electro Swing extravaganza of a line up. Including the Godfather of electro swing himself, Parov Stelar, Parisian darlings of the genre, Caravan Palace, Brighton based, swing-hop MC and DJ duo, The Correspondents, and 3X DMC world champion DJ Switch. Anyone who was caught up in the fabulous frenzy of last year's most decadent and danceable festival scene will know that this is the ultimate Electro Swing lineup.
Throughout site we've got fantastic contemporary visual artists again this year. We've been funded by the Arts Council to continue our successful Contemporary Art at Festivals Program plus have some of the best urban artists coming on board as before. More news about arts coming soon.

Hopefully this blog post has whet your appetite, but it's merely the tip of the Shangri-la shaped iceberg. More exciting news to be unveiled soon, so keep your eyes peeled for future updates and lineup announcements, including details of our 17 nano-venues and many more musical delights.
Tuesday February 1st 2011
End of Jan and the Shangri-train is rolling, we've done the concept and design development, now working on detail and ploughing through the mountain of pre-production to be done. We've had some great news and there are a couple massive new scores that I can tell you about (as opposed to the ones that I can't tell you about).
We've just scored the use of 4 x 35k HD projectors for the video mapping, making a total of a whopping 140,000 lumen being thrown at that wall. Last year we had 72k, you'd have thought that would be enough but no, so big thanks to Darkroom and LM Productions for that - hopefully the videomapping in the Hub will reach its full potential this year.

A big thank-you goes to The Wellcome Trust, who have enabled us to make us exciting new developments this year by commissioning us as part of their season on DIRT to design and build a whole new aspect to Shangri-La….…introducing The Skywalk, Decontamination Chambers and Virus.

As you may know, Shangri-La has a storyline that evolves year by year and willingly or not, you become part of it. In 2009 it was a pleasure city run by a corrupt dictatorship. In 2010 the ruling administration was overthrown and the city was opened up to rebels and chancers who had to fight for resources to carve out their own little piece of paradise.

2011 sees the population preparing to flee before, as they believe, the end of the world in 2012. They've given up trying to save the planet, it was all a bit too much like hard work so they've colonised somewhere else instead. It's a new world, apparently much nicer, and only those who make the grade will be allowed to go there. Everything valuable has been shrinkwrapped in preparation for the first transport shipment to the new world (first ship leaves on Monday) and everything else, especially those vile and virus-ridden slums, is being left to rot in its own miasma.

In order to gain your place in the new and much nicer colony, please make your way to the decontamination facility, where the scientists there can determine whether you are in need of physical or moral decontamination. Post-decontamination, you will given your bio-hazard suit and only then will you be granted access to the Skywalk and be able to take the first step up out of the filth, your journey to the new world….
Wednesday October 6th 2010
The Friday night at this year's Festival was the first time that the Radio One had ventured (officially that is) into our end of the site and the result was a seriously banging night that was a combination of artists from the Essential Mix and our Co-Producer and Production Manager Robin Collings. Here are some great shots of the night featuring Annie Mac, Skream Plan B, Tinie Tempah and Chase & Status from our bella photographer Peeping Tallulah…
Tuesday August 17th 2010
Hi there, this bunch of photos is dedicated to you the punter - having a really good time bringing the world we build to life and making it damn messy in the process.
Thanks to our very talented friend James McCauley for these images.
Monday August 2nd 2010
Hi there, here is a selection of 2010 pics from the very renowned and very lovely photographer Barry Lewis. Barry has been working with us documenting this area since back in Vagueness days and is one of the best around. He's been sticking it out over all these years through mud, dodgy backs, even dodgier trailers and worse I'm sure. You can see more of his incredible work on his website: www.barrylewisphotography.com

Hope you enjoy seeing them as much as we do.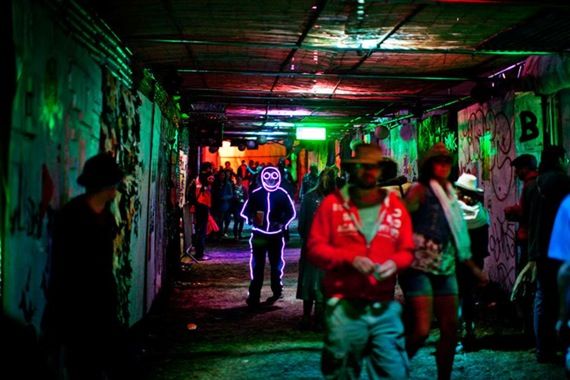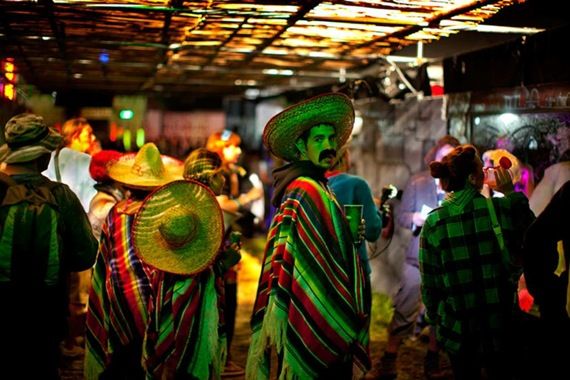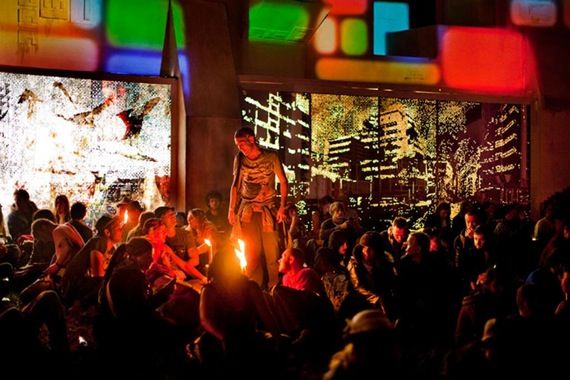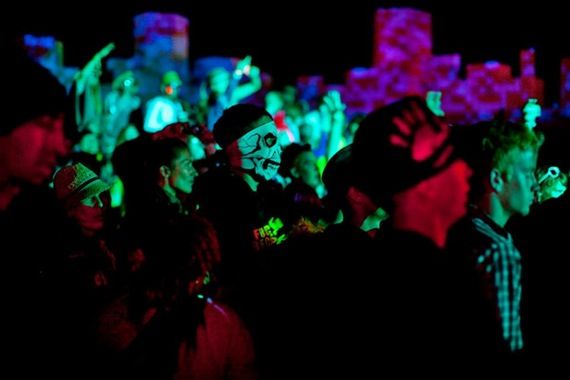 Barry emailed me and said:
"I have just been looking through Shangri La & Lost Vageness....over the years...it would make a great book!! Get a great writer who loves you to tell some of the stories...the good...the bad & the ugly!!!!!! What a great book it would make."
So yes, of course it would! We've got an abundance of stories but there must be loads more out there, so if you've got one to tell us, let us know on our facebook page and who knows, maybe it'll be in a book one day…
Tuesday July 27th 2010

OFFICIAL MESSAGE FROM THE MANAGER OF SLUMBARAVE:

Erm yes, well i wouldn't care to submit the truth from the afterhours of Slumbarave this year, besides the LaSenza could be found more commonly strewn around the venue, than actually worn.
But on a more serious note.......who were all those naughty kids starting rumours about the 'pillow fight club'? My hotel concierge and chambermaids were overwhelmed with keeping the beds made and the stuffing inside the pillows.
May I take this opportunity to remind patrons that we are a respectable establishment and this kind of behaviour will not be condoned, and to reiterate this notion, I will be introducing the new hotel safety feature next year, of a caged pillow fight club, and keep you all safely locked up, so that my more respectful clientele can enjoy the hotels' features, such as the Entropic Treatment Centre, and the Transformation Station.
Also, due to the increase in such violent bedroom aggression I feel it may be time to allocate an area of the hotel to SLUMBAGRAVE, where if you're lucky enough, you will finally be laid to rest with all the other important Shangri la ghosts from the past, and tucked RIGHT up, by our hotel caretakers/grave diggers, YOU HAVE BEEN WARNED.

The management,
Hotel Slumbarave Metropolis.

Tuesday July 13th 2010
Hi guys,

As promised there are a few more pics from the gig below…




I have a small confession about Graviton (the pyramid piece we commissioned for the hub this year), bit embarrassing but who cares… yes I did actually think it was on fire. Jamie (Lighting Diablo) did not tell me there was smoke meant to be pouring out of it, we were in the hub and he said debs turn around – and I saw graviton all smoking and orange and thought the lights inside had caught fire and, yes, like a proper saddo, I did yell at people to get off whilst Jamie pissed himself laughing at me. Har har jamie, I hope it gives you pleasure to see me make a dick of myself yet again. Actually I know for a fact it does.




Another nice hub-rave moment above, but back to Graviton for a sec – you've got to admit it does look a bit like its on fire (less hot though fortunately)




Did any of you catch the bit of videomapping where it really was a 23rd century bladerunner vision, with future cyber-hover craft whizzing round and everything? (a little bit is in the pic above)

Now for the Slumbarave lingerie shots…




At the risk of sounding like a wrong-un, they're very lovely (tea anyone?) but I was hoping for a little bit more sauce on the ol' sausage. I think Bixy's holding something back - perhaps not fit for public consumption?

Anyway I'm sure some you lot must have some more evidence of the negligee-clad bedlam that was Slumbarave during the festival. Only thing that would get in the way of that is the vast amount of pillow fluff exploding through the air and getting in front of the lens. This shot below looks like it's been carefully cropped to avoid looking like it belongs in the Block 9 field…




Here's Michael doing stirling work showing the Guardian around slumbarave before the whole thing really got going.



If you still want to see more pics then good on ya – thanks. Photographer Paul Holmes has kindly put his up on flickr for us all to enjoy – can you spot yourself in crowd?

http://www.flickr.com/photos/paulholmes/sets/72157624481025566/show/

And if you do have any pics – anything nefarious or illicit is particularly welcome on our facebook page. Speaking of which, the guerilla club, if you were lucky enough to have a gorilla card and got in there and took pics – I need em!

Bye for now,

Dx
Saturday July 10th 2010
Hi peeps, got a funny one for you… Harriet Knowles who has been helping me out also runs something called Videopia, they do spoof brief remakes of movies using you the audience as the stars. This year they did Bladerunner using Shangri-la as their backdrop, you can check out their stuff at videopiauk.wordpress.com.

"A very brief remake of cult classic 'Blade Runner', filmed at this year's Glastonbury festival in the weird & wonderful world of Shangri-La. Thanks to everyone who got involved… all the revelers brave enough to get dressed up at 1am to act in front of the camera & lots of confused looking passers by deserve an Oscar!"



If you want to get in touch with Harry then drop by our facebook page, I'm sure more extras are always appreciated.
Wedneday July 7th 2010
Well hello there, I've finally got enough time and brainspace to able to write again after descent into the madness of the festival and exhaustion of the get-out.

So how was it for you? I guess if you're reading this and have been to the festival then you're probably trawling the internet for glasto fodder feeling well nostalgic? Well I am and I do - it was an amazing year, in which a lot of things came together in synchronistic and fabulous style.

I'm going to post up loads of highlights and pics but first I got to say thanks to the people that made it happen…

Loved having our lovely family of friends as our neighbours all around - they did brilliantly well one and all and we were all there to help each other out of course, which is how life should be always with everyone.

Am SO PROUD of the Shangri-La team who work so frikkin hard and I do believe we pulled it off in style. Crew morale was wonderful this year, it was a real pleasure to be on site with everyone and I miss them all now. Okay I admit, we did get slightly pin-up blog-obsessed in the build but hey, what can I say, we love dumbass stuff we can banter about during the build. (People you wouldn't have thought got all greased up to get their pics done - I didn't have time to feature even half of them. Roddy - spotted posing in chains, but where's the pic now eh?). Of course, adding to the hot crew vibe this year was the very special delivery we received from the lovely ladies at LaSenza for Slumbarave. That put a smile on many a face and kept the team spirit up – sauce pics on their way soon…

Seriously though we have a whole lot of people to thank for the success of the field this year so bear with me….

The whole Shangri-La field team, of course. What can I say? There are too many brilliant people- we will just have to feature different aspects of the team over the next year on here I think.

Special thanks, of course, go to the Glastonbury Festival team, you may or may not of heard of some of these people before, they are yet more hidden angels, but they do the stuff that makes the whole massive ridiculously complicated festival possible, (apparently ours is just a tiny corner – who knew? ) So thank you…. Michael for your unceasing support of our whole subculture that makes up Shangri, Unfairground, Arcadia, Block 9 and the Common. Emily – our ever sunny friend and heartfelt advocate, Jackie and Katharine – yes I know we're not easy but hope we're worth it!, Julie – for always being there to help. To Robert, Dick, Rob, Luke, Beth, Crispin, Tracey, Phil and everyone else – thanks for the support on site, the whole thing has been able to develop this way because of all of your help, I hope we do our small part in helping to keep the festival exciting, unique and groundbreaking.

Big thanks really as well to Jamie from Astral Design (our Lighting Director) for saving our hide with the video mapping and to Bruce and Emma from the Darkroom for being a great new part of the team. To Chris from Electro-Signs for helping us realize our vision with the neons and lightboxes and Damian from Roadrunner for rigging them. To Tom Wilkinson for being so brave as to let us borrow his incredibly fragile and beautiful Light Wave piece. Mutate Britain, dear friends thank-you for hooking us up with the wonderful artists - Dr D, Obey, Teddy - and thanks to them too…

Okay this is getting silly now I could go on forever.

Back to the fun stuff – Shangri pics to come but in the meantime check out these brill video-mapping and R1 night videos….

http://www.thedarkroom.tv/



Makes me spine-tingle.

Last but not least, looks like we're ahead of the game for next year with the theme already decided by Timmy on site – The End of the World.

Scary stuff.

Dx
Monday June 21st 2010
Hi Peeps, just a quick note to let you know theres a discussion starting about what to wear in Shangri-La on our facebook page.

Much of Shangri-la's other worldly wonderment is down to its retro-futuristic look, inspired by fantasy dystopias such as 'Bladerunner', 'District 9' and 'Star Wars'. A key part of this look is costume. This is no fancy dress competition; this is about creating living theatre, a world to get lost in. We want to encourage the audience to become part of this, so before you come in, nip back to your tent and slip into something less comfortable before you get your rave on in Shangri-La. Think of yourself as an extra on the set of 'Blade Runner' that's fallen into a vat of glitter…

Here's a few more shots that lovely harry has put in and theres another 30 or so on facebook. But I've been seeing loads of stuff in the fashion press recently that I think would fit right in, all that futuristic stuff, please anyone fashiony who knows what I'm on about add to the discussion on facebook as I'm up to me eyeballs! - http://www.facebook.com/pages/Shangri-La/107598949284949?ref=ts
Saturday June 19th 2010
HI there, things are hotting up on site now, its not quite chaos o' clock but its 5 to. [I wrote that this morning and then hit chaos o'clock, it's now 9pm].

Anyway who cares, back to the eye-candy...!

Introducing the wonderful, unique, Mistress Selecta that is Kaye. As Robin (we need a whole section on him) says, she is fucking hot. I think you'll all agree, that if she can look this good after a long sweaty day, then hey.




Kaye likes: Willy and bangers and mash. Dislikes: any visible cable ties or staples in the set and polystyrene beanbag balls.

Kaye is one of our Art Directors and along with Timmy Wobble every weds is art department day at my place, and I love it so much that when the festival ends I feel bereft of art department Wednesdays until they start up again. Mainly we drink tea and make jokes at each others expense, but it's also where a lot of the core concepts of Shangri-la are developed.

Loads of the shack-builders turned up today, really nice bunch of people, very patient with the minor shack shuffle that was required. Looking forward, with a bit of trepidation, to see how they all turn out.

Sorry not more, got to go to timmys pub quiz in nicks cider bar.

Dx


Thursday June 17th 2010
Well, it seems I've started a small controversy down here with my arcadia fittest crew remark. Blog of the day seems to be turning into pin-up of the day. Kaye is your mistress selecta so get ready to witness the fitness…

This is Philsky, aka fluffy Phil. Phil is our bronzed Chief Chippy. Likes: Raves, Tasmanian trees, anarchists, growing olives, songs that go "we built this city, we built this city on…[cheese sandwiches/mud etc]". Dislikes: splinters.


This is a message from phil to the outside world:

"I want my family to know I'm OK and they are feeding me and treating me well. I hope to be released at the end of June. Please don't forget about me. I love you…"

More tomorrow, the ladies are getting jealous for their turn and last night the scaff crew volunteered to do tools and helmets shots for you. They were keen as mustard I tell you but today when I try to sort it all I got was "but I was drunk" . Hmm.

Set build is going so well that I even have time to do this, but then, its still its not chaos o'clock quite yet…

Heres a pic of lovely Clare (Boss lady of construction) and Sarah (Art dept painting effects maestro). Oh yeah, and the Hub!


The bit that's not painted yet we're putting in a huge street art installation by Jim and Max Woodall, who did all the great poster and drill work by dada last year. Last year the hub got tagged to buggery, but they're working on this piece all event so we'll see what happens. And can I just say, Jesus theres some seriously good acts in there!! (new stage on the other side). Check out the lineup and Chase n Status myspace. Cor.…

Btw, if anyone wants to send Phil's ransom money, that's fine. 18billion euros should cover it.
Wednesday June 16th 2010
Hello. We'd like you to introduce you to some of the peeps.
So over to chief boss ladies Kaye (Art Director) and Belle (Site Manager)
Kaye – "Ever realise how important scaff is to make this all happen? Well Nick Giles and his team are the ones that hump it and erect it in all conditions, wet or dry, flat or hilly,pre- organized or last minute chaos these are the boys that make it happen.
Today we have a lovely picture of Trevor, so we thought we'd feature him as our pin-up of the day. Trevor is a strapping 6ft something (big anyway), might be welsh, likes – Cider and minirolls."
Belle – " If you're very lucky he might show you his love lantern."
Okay… so more from the production office later…
Dx
Sunday June 13th 2010
Shangri-La is pleased to announce the success of our Build a Palace from Pallets competition.

In a first for festivals, Shangri-La has opened up our field include the creativity of the public in the creation of the area.

Festival-goers were invited to respond to our narrative and design and build their own homes on site and we received a tremendous (and grateful) response to the brief.

The overall theme of the field is about a fight for resources and the shacks form a crucial part - they are the tiny homes erected by the desperate on the outskirts of the alleys.

Whilst the Shacks are part of the overall visual aesthetic of the field, there is a more serious aspect to the project – this is about a fight for survival when resources become scarce and resourcefulness becomes the name of the game.

From the beautiful to the profound via downright silly, our weird yet wonderful winning entries are detailed below:



WATER SHORTAGE
"The reason that these materials have been chosen is to firstly exhibit how found materials can be recycled for use in building; the ability to use recycled materials is fundamental to sustainable development. Secondly, the water bottles are used to highlight a socio-political issue: the global shortages of water. Two thirds of the bottles in the structure will be full of water and the other one third will be left empty to symbolise the 1/3 of the world's population that suffers from a shortage of drinking water."



TEMPLE OF THE B-MOVIE CULT
"Afuture hybrid religion has emerged amongst the struggle for survival in Shangri-La. After a huge hoard of ancient VHS tapes was discovered by miners on the outskirts of the city a new form of worship began to take hold in the city. Followers of this new religion worship the characters and monsters depicted on the covers of the VHS boxes. They believe them to be prophets and saints from time's past; a lost religion now reborn!"



SUPER SHACK
"What would happen if superman was still around?

What if he worked with our governments to help towards a better future? IN THE SUPERSHACK HE DOES!"



CHANNEL YOUR AGGRESSION
"Continuing directly on from the events of Shangri-La in 2009, the shack imagines that during the Utopian fantasy that followed the revolt, flashy boutiques flourished, popping up in sheds and ramshackle structures. 'Channel your Aggression' is a shop that has been taken over by a revolution, the couture turning into rebel armour, a costume of reclaimed evening wear covered in slogans of playful aggression. getting ready to fight for what you believe in, to fight for what is right, and to do it with style and conviction."



SEEDBANK
The Seed Bank is a concept that will show how we have escaped the corporation strangle-hold and live by means of exchange tolerance and help. Where fellow man will be provided with provisions exchanged with other provisions and resources required for day to day living. For example:

You can swap your unwanted TV remote for some fresh water and tomato plant seeds. The TV will be obsolete so now only collected for parts and scrap, and in return given valuable and ever so rare tomato plants and clean water. A utopia where we are trusted to be humble, honourable and giving.

MUTANT VAJ
The vegetable corner shop of the future, combining a retro shopping experience with futuristic sentient vegetables. Due to nuclear and chemical pollution the vegetables have mutated and grocery shopping is now a disturbing experience. The horned shopkeeper, vegetable limbs hidden beneath his grubby apron, glares at you with glowing eyes as you enter, but stays put in his corner. On display, hideous dystopian creations nestle next to militant fruit of the lower ranks: some scramble for freedom, but their glowing bodies offer no camouflage. Soylent greens jostle for space with jaundiced carrots, while silent spring onions glare mutely at you. These fruit all have eyes, and teeth, and some are armed – and they're watching you...


WORLD RECLAMATION CENTRE FOR PLANTS & PEOPLE
Words speak louder than actions. Through governmental influence, generations have conspired against themselves to disintegrate the former international language of English. Studies dating back to 2010 have shown that talking to your plants really does promote healthy and natural growth. In our current toxic climate most plants have to be kept alive in incubators. At the Word Reclamation Centre for Plants and People we collect the CO2 which you breathe out whilst you are talking to the plants. Across decades words have been hijacked by advertising and political campaigns, often dissolving into meaningless sounds that people no longer recognised as 'true words'. At the Word Reclamation Centre for Plants and People we encourage our visitors to come and talk to the last organic plant specimens on Earth.




CITIZENS EXPRESSION SHACK
After the death of the corrupt regime, freedom has come to Shangri-La! Resources are scarce, but citizens are finally able to express themselves without fear of reprisals. As a home for free speech and citizen journalism, the Citizen Expression Shack will encourage the people to produce a record of their experiences and thoughts. By providing a range of free media direct to the people, citizens will be able to forge a new identity. Using recycled materials, people will literately be able to build a house dedicated to recording issues and happenings, and their ideas and hopes for the future.



EMPTY PROMISE
Made from multi coloured wool wrapped around a foundation to cover the walls, floor, ceiling, windows and furniture; Empty Promise is a house made of the imagination, barely real enough to stand in, but at night, so brilliantly illuminated its impossible to ignore.



SLUMTONS
Slumton's is Shangri-La's Number 1 Estate Agency. With thousands of slums for sale and to let worldwide, we give you a unique insight into the ever changing slums market. Our café-style offices have revolutionised the selling of slums, making the dream of slum living accessible to all. The eye-catching design of our offices was created to provide a better service and a more one to one experience. Enjoy some delicious (almost clear) muddy water from the local spring whilst perusing the best selection of with and without running sewage slums – available to suit all budgets. Whether you fancy the streets of Rio or if you have aspirations for Mumbai's Dharavi (very popular after the recent TV coverage!) – we are sure to have the perfect place for you and your family. From our distinctive colour scheme to the welcoming figure of our founder adorning the roof, Slumton's cannot be missed on the streets of Shangri-La. So why not come down to see us for our special 40th Anniversary celebration – we'll have some very special slums on offer as well as some lively entertainment and music on in the area. We look forward to seeing you there!



CONCH TENTROPLIS
Our design concept has worked from a shell form, through utopian fantasy fairytale castles and finally coming around to tents. Concepts include shelter, sanctuary, taking your home with you, recycling and re-imagining utopian castle forms. References to fields of tents, both within the festival setting and also refugee camps. Mass migration and the need to create shelter relates to the dystopian concepts outlined in the brief.



TARDIS
It will appear to be just an unassuming police box from the front but inside it will be twice the width and depth (much like the Tardis in Dr Who!).The Tardis was built using tens of thousands of lego bricks. Lego was used as a building material as it's reusable, recyclable, strong and does not biodegrade, so will last forever!

HOUSE OF THE OBSESSIVE RECLAIMER
Unable to let go of the past, compelled to collect anything that might be 'Useful' for fear of what the future holds the re claimers domain resembles an Aladdin's cave of artefacts and materials. Light shimmers through the haphazard windows, coloured by the collaged plastic panes, and collections of all manner of objects hang from the walls carefully organized in groups based on material, size and countless other hierarchies. Inside the house time stands still, underlined by the lifeless clocks hanging from the wall. The house of the re claimer is like a bank of memories, a palace of past possessions in which people can marvel at the many objects, and ponder the stories that they may have once been part of. The house of the re claimer becomes a church of forgotten belongings offering wonderment and ambition to each who grace its walls. The re claimer sees value where others don't.



THE OBSOLETORIUM
In a dark corner of Shangri-La rests a battered old man whose tormented mind only animates his broken limbs into action when an invention, so contradictory it borders on genius…. Inside, his walls are strewn with paraphernalia of a by-gone era; books, road signs and maps of places that may no longer exist. It is filled with objects and furniture built from technologies from the old world in new and contradictory ways. Although now there is no sign of the broken minded cretin, his television makes the room flicker with the glowing suggestion that he left in a hurry and his drawings imply he was planning for an event worse than his demented mental nightmares. Oh! and by the way, if you see the fused out old crank be sure to find out what he knows...



TUBE STOP
Every dystopian future-city needs good transport links and with the world's oil supply finally running out, options are in short supply. The government of the time, with their last throw of the dice, decided to extend the underground network across the country, all the way to Shangri-La. Though typically for Shangri-La, what you'll find isn't exactly at any normal train station, with a toothy tunnel entrance threatening to swallow those brave enough to travel. During the festival, the station will be closed due to planned industrial action and all those who cross the picket lines are at risk of being labelled a scab. You have been warned! [NOTE this entry was from a TFL Underground Worker]



BLOW OUT
The manufacture, use and disposal of tyres contribute to environmental damage in a huge way. The UK produces enough waste tyres each year to stretch from London to Sydney. They take thousands of years to decompose and they give off toxic fumes when burnt. Some tyres can be re-moulded for use again but after this they too become obsolete. Used tyres are increasingly being recycled into products like flooring, road surfacing, play areas, aggregates and footwear. They can be used in construction, as a supplementary fuel, or even reprocessed into rubber granulate for use in turf. Finding a use for waste after its intended purpose and supporting initiatives that do is a way in which we can help the environment. Blow Out will show how versatile and easy they are to use.



THE GAMBLE
This proposal playfully addresses the issues of inequality- the basic gamble of birth (where when and who one is born to) that strongly influences if not determines the course of one's life. Just as one cannot choose which circumstance in which country and at what time one is born, one does not know what lies beyond the two identical doors facing the alley. The writing on the wall asks that you choose one door. You go in and find yourself in one of two possible scenarios:

1. You are in a cramped space built of scraps of salvaged materials, a dirty futon by your feet and a small pile of well worn clothing. You're poor. You sit on the bare timber floor planks and stare through the bars that separate your space from the space next door.
2. You are surrounded by luxury. The cosy space is wall-papered, carpeted and comfortably lit by an exquisite table lamp. You're rich. You sit in the antique armchair and look at the person on the other side of the bars. This split-personality space is intended to entertain and encourage interaction between visitors, perhaps even role playing possible scenarios thus turning the spaces into stage sets, separated yet forced to face each other



RUBBER GLOVE ANGEL
This Shack reclaims neglected washing up gloves that have been made redundant as a result of the dishwasher. Picture 16In contrast, the figure on top is made of readily available vegetable fibres, reflecting the natural fibres used more frequently in construction by our ancestors and a return to tradition. The distressed hessian figure will be exposed to the elements- bleached by the sun, or sodden by the rain, it will become vulnerable to its surroundings. The changing figure will be documented daily, as will the interaction from the audience. The audience will be invited to enter the structure through the legs of the figure.

Thursday June 10th 2010
Since 27th May 2010 we have started to put 11 months of hard planning and creative imaginings into practice, and here are some photos documenting the build as we go, watch it grow!

Day 1 of Shangrila; the mark out.


The hunter pruodly displays his prey. Or, Phil gets the first pieces of his field into their final position


The art department hard at work:

Does it just look a lot bigger this year because it's in an empty field?


Please join us on facebook, its a new group this year: http://www.facebook.com/pages/Shangri-La/107598949284949?v=wall&ref=ts
Wednesday June 9th 2010

Hello. So, let me introduce myself. I'm Debs, and I look after Shangri-la in my capacity as Creative Director and general maternal type. Other types you might hear from on this blog include Chris, (Music Director) Robin, (Production Manager/Co-Director), Belle (Site Manager) and Timmy (Art Director). These guys are just a few of the 1500 strong crew and performers that it takes to create our very condensed little world. So much to tell about its hard to know where to start, (also, strangely, I got a bit stage fright in starting writing this being strictly a backstage type meself - none of this galavanting about, hanging off wires and getting your bits out for me!)

Anyway, when people think next weekend is a bit early to get down to site, they don't know the half of it. The truth is I'm not one of the hardcore vanguard posse... Nik (Scaff Sculptor Extraordinaire –builds the whole frame for our city) and Robin and Belle have been down since the last week in May, and the art department (Timmy, Clare (Construction Boss Lady), Philsky (Chipper Chippie ) et al have been down for a week or so. I do think of them now, schlepping wood and scaff around a rainy field and feel very proud of them but a tad guilty not to be there yet.

There are 2 best bits of this all for me, the bit before (and I'm sorry guys) all you lot turn up and chaos rains down on our heads, but that's also the other best bit, seeing you guys bring it all to life and seeing all the stuff that all my crazy friends have been working on for so long.

This year I can't wait to see what our mates in the fields around us are doing too. Its been a major expansion, and its brill. In case you don't know the history, we are all a close family of friends, most used to do stuff in the old Vagueness field. Joe Rush (unfairground), Gids (block9), Steve (common) all have their own fields to look after now, and of course so does Pip (arcadia –who have, by the way, whats generally acknowledged to be the fittest crew on site). Is it competitive? Hell yeah, but in the best possible way, I'm properly thrilled and excited and inspired by them and it drives me on to try my hardest too. Love em.

This year I'm more excited about this field than I have been in 8 years of doing it. No really. Its going to be massive…

More later, got shit to do!

Dx